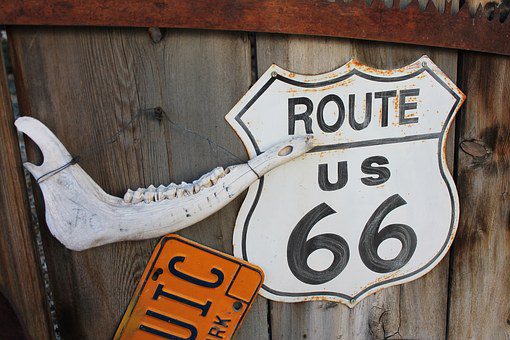 The American RV park is near some great history including the bit of American road that was Route 66. In fact, Albuquerque hosts 18 miles of Route 66, the longest urban stretch in the country.
Route 66, opened in 1926, ran from Chicago, Illinois, through Missouri, Kansas, Oklahoma, Texas, New Mexico, and Arizona before ending at Santa Monica, California, a total of 2,448 miles.
The key Albuquerque streets for Route 66 are Central Avenue and 4th Street. Central Avenue originally served as a trading route for Native Americans, a wagon trail and an electric streetcar route. Route 66 always ran through Albuquerque, initially north to south along what is today 4th Street.
The route allowed people to migrate and vacation from east to west easily. Many Route 66 travelers decided to put roots down in Albuquerque as they headed west seeking a better life.
The later Route 66 alignment, ran through Albuquerque east-west spawning several tourist-focused businesses along what is today Central Avenue. The interstates built in the 1950s were built over some sections of Route 66 but local opposition to such a fate fended off that happening in Albuquerque. In the 1980's, the city became interested in protecting and revitalizing old Route 66 era businesses and buildings.
Today, some of those Route 66 era businesses survive and you can still eat, drink, and sleep in several of them but many businesses have since closed. You can still see surviving architecture and signs from the Route 66 era along Central Avenue and 4th Street.